Lunch
Lunchen serveras mellan kl. 11:00 - 15:00 helgfri måndag - fredag
PHỞ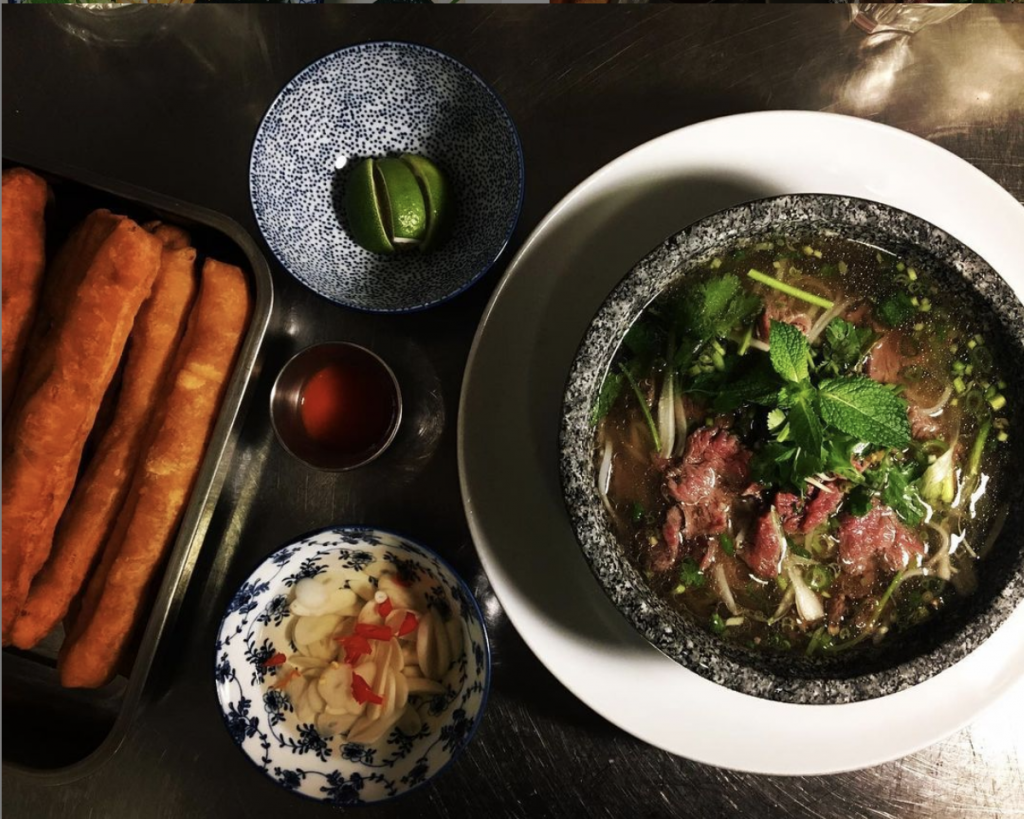 Nudelsoppa på mustig buljong, serveras med biff eller majskyckling, färsk ingefära, koriander, mynta & salladslök.

Rice noodle in bone broth soup, served with beef or corn-fed chicken, fresh ginger, coriander, mint and spring onion
11. Phở Bò
Oxfilé, näringsrik buljong gjord på märgben av nöt på minst 12 timmars långkok.
Pho served with beef tenderloin, in nourishing beef marrow bones' broth
12. Phở Gà
Ångkokt majskyckling med näringsrik buljong på majskyckling.                    
Pho served with steamed corn-fed chicken in nourishing chicken bone broth
BÚN TRỘN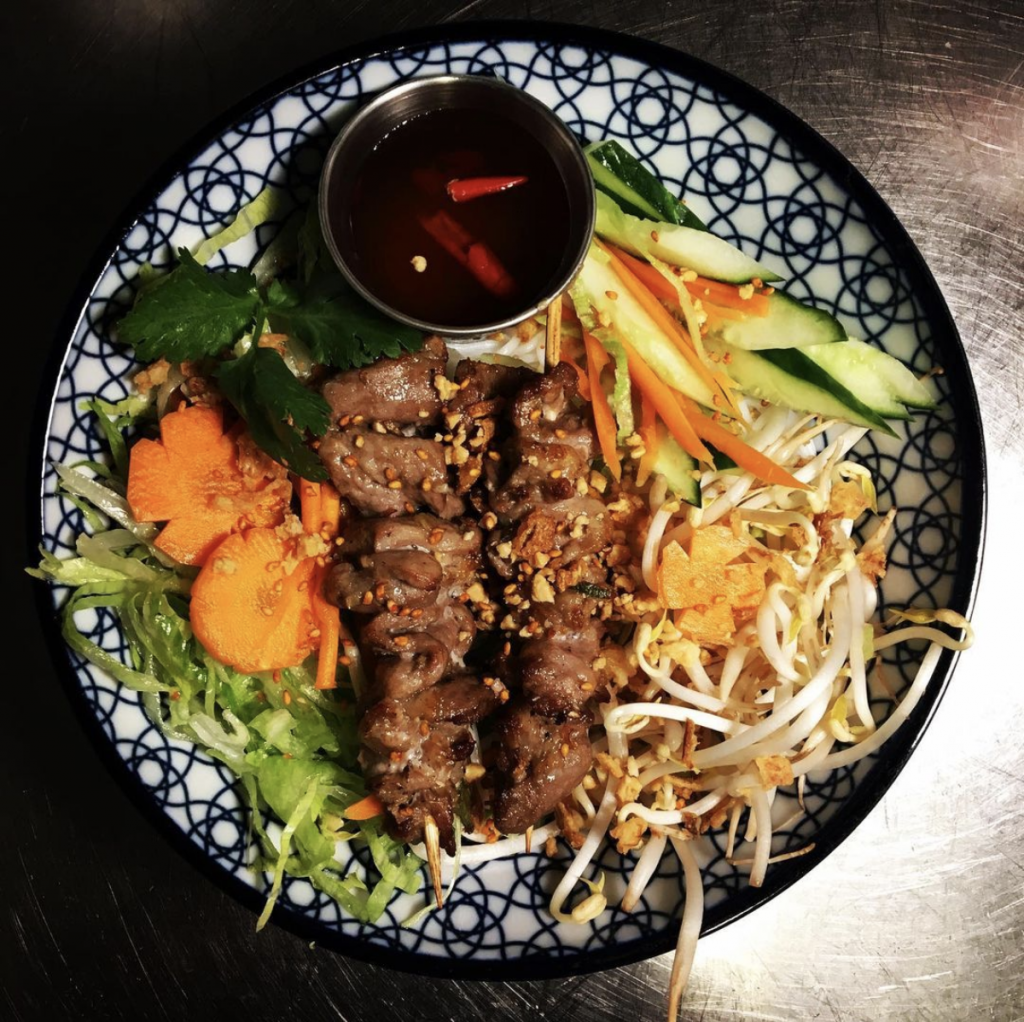 Risnudelrätter som serveras med kött eller veganskt, sallad, picklade morötter och rättika, färsk koriander och mynta, fisksås (hemgjord sojasås för veganska alternativ). Toppas med jordnötter, rostad lök och sesamfrö.

Rice noodle salad dish with meat or vegan option, pickled vegetables, fresh coriander and mint, served with fish sauce (homemade soya sauce for vegan option), garnished with peanut, roasted onion and sesame seed
14. Bún Chả Nem
Risnudel serveras med friterade vårrullar och grillad fläskkarré (I marinaden: five-spice, citrongräs, ostronsås).   
Rice noodle salad with fried spring rolls and grilled marinated pork tenderloin (in the marinade: five spice, lemongrass, oyster sauce)
15. Bún Tôm
Risnudel serveras med scampi (ASC-märkta) (I marinaden: citrongräs, ostronsås)
Rice noodle salad with grilled prawn (ASC brand) (in the marinade: lemongrass, oyster sauce)
16. Bún Gà
Risnudel serveras med grillade strimlad kycklingbröstfilé (I marinaden: citrongräs, ostronsås)
Rice noodle salad with grilled chicken breast (in the marinade: lemongrass, oyster sauce)
17. Bún Đậu Phụ (VEGAN)
Risnudel serveras med grillad tofu
Rice noodle salad with grilled tofu
18. Bún Nem Chay (VEGAN)
Risnudel serveras med friterade vegan vårrullar och grillad tofu
Rice noodle salad with vegan spring roll and grilled tofu
19. Bún Chả
Risnudel serveras med grillad fläskkarré (I marinaden: five-spice, citrongräs, ostronsås)       
Rice noodle salad with grilled marinated pork tenderloin (in the marinade: five spice, lemongrass, oyster sauce)
20. Bún bò
Risnudel serveras med wokad oxfilé (I marinaden: citrongräs, ostronsås)  
Rice noodle salad with stir fried beef tenderloin (in the marinade: lemongrass, oyster sauce)
BÁNH MÌ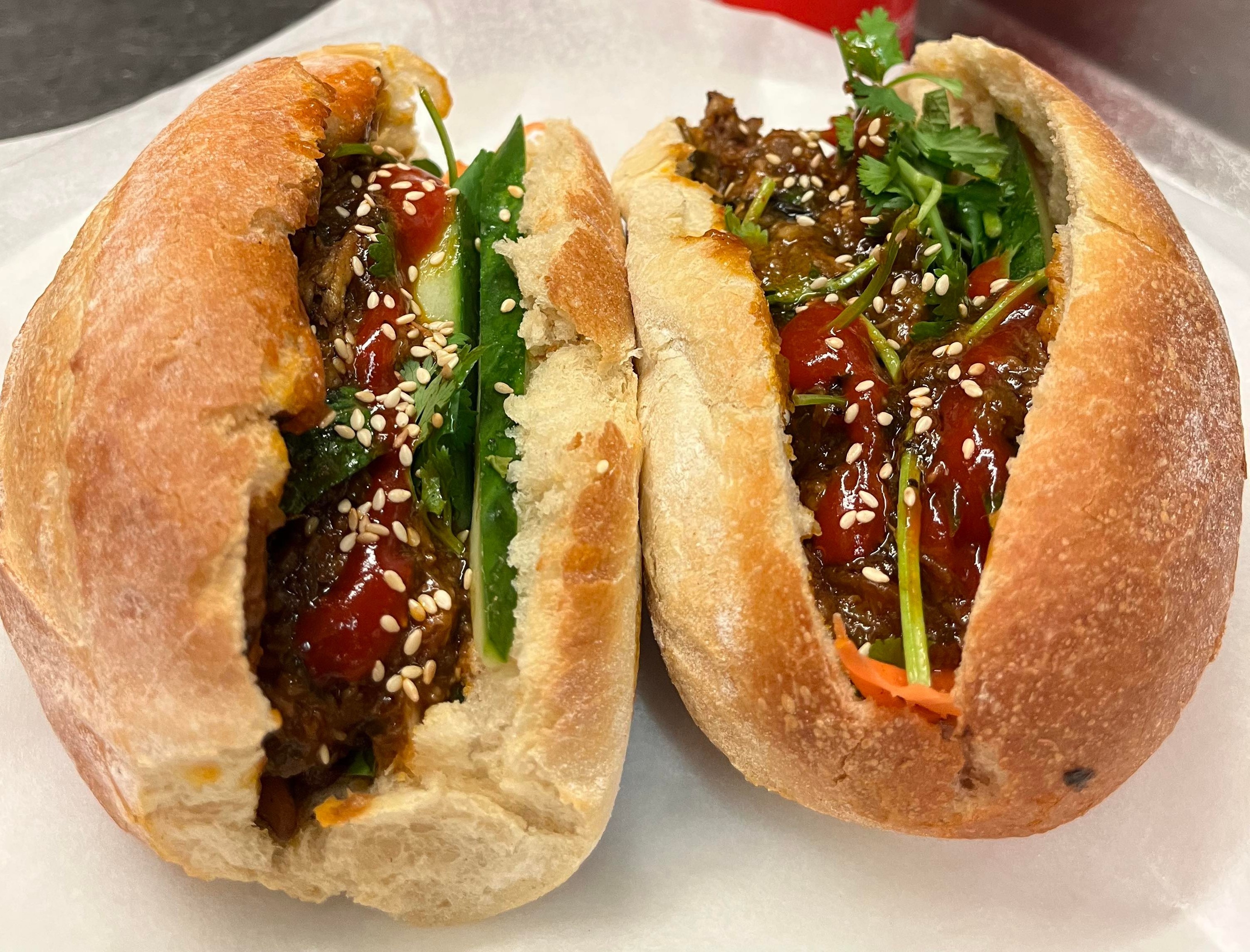 Den klassiska vietnamesisk baguetten. Vår variant serveras I två mindre, nybakta baguetter. Innehåller bl.A picklade morröter, rättika, färsk koriander och vår hemgjord sås. Toppas med sesamfrö. Välj mellan:

The classic vietnamese baguette, filled with meat or vegan option, cucumber, pickled vegetables, fresh coriander and our home-made sauce, garnished with sesame seed. Choose among the below options:
21. Bánh mì thịt heo
Grillad fläskkarré
Grilled pork tenderloin  
22. Bánh mì thịt gà
Grillade strimlad kycklingbröstfilé
Grilled chicken breast  
23. Bánh mì đậu phụ (VEGAN)